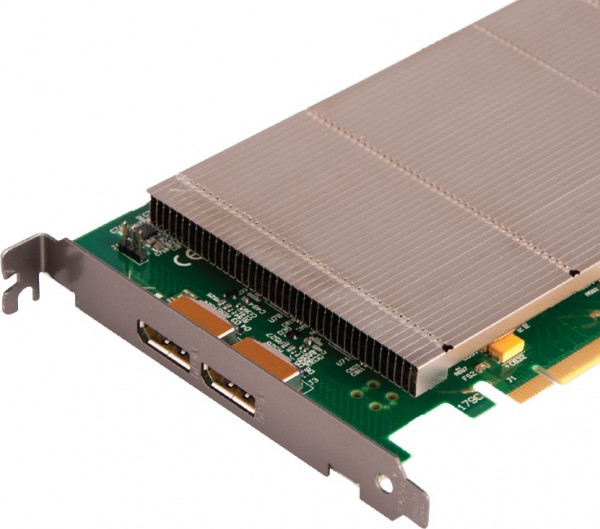 The professional AV market has begun to adopt 4K UHD technologies, with integrators and system...
mehr
Produktinformationen "XtremeDV-DP2 Dual Channel Display"
The professional AV market has begun to adopt 4K UHD technologies, with integrators and system builders demanding higher performance and greater resolutions in the video that they are working with. The EMS XtremeDV-DP2 offers video professionals the ability to simultaneously capture multiple 4K, Ultra High Definition, video feeds each at 60 frames per second. Developed as part of the XtremeDV family of capture cards, the Vision-SC-DP2 offers unmatched capture performance and reliability.
Two independant Display Port 1.2 Capture channels
Eight lane PCIe Gen.3 interface, Net 6.4 GB/s total capture bandwidth
Frame buffer memory 768 MB
Up to 8k x 8k capture resolution available at lower frame rates*.
Key Features LiveStream Technology
Low latency video and audio capture minimizes the delay prior to post processing
MultiStream
Open and independently control multiple instances of the same capture from a single input source
Powerful hardware scaler
Adjust the incoming video size to your requirements
Text and bitmap overlay
Overlay text and images onto the capture buffer
Automatic video signal detection
Accurate signal detection for all signal sources.
8K x 8K at lower frame rates supported based on preliminary testing. Further testing to be scheduled on availability of 8k sources.
cd XtremeRGB Software The XtremeRGB is supplied with a stand-alone software application, simply connect your external DVI or Analog source into the card, run the XtremeRGB application to automatically detect the video source format and display the captured video in a window on your desktop. For multiple inputs the application can be executed multiple times, each capture is displayed in its own independent desktop window. The captured video data is displayed in a desktop window with/without menu/borders, can be resized up/down, overlapped and/or maximized to full screen display. The EMS application also enables you to configure the timing and format of the input sources as well as brightness, contrast, hue etc ... filmstrip XtremeRGB Streaming For streaming applications EMS include WDM drivers, hence any Directshow compatible software can be used such as, Windows Media Encoder/Expression, VLC, Vidblaster, HDwave, Watchout, Adobe Connect etc ... The XtemeRGB-Ex1 is an ideal solution for applications that require the capture of DVI/HDMI/VGA or Component sources in real-time. softwareSoftware Development Kit (SDK) for developers/integrators The XtremeRGB is supplied with a powerful SDK for own application development, many source code examples are included to help reduce the development time. Also included are Directshow source code examples. Specification:
| | |
| --- | --- |
| Board Format | PCI-Express x8 plug-in card, 110mm x 177mm (incl heat sync) |
| Connectors (main board) | 2 x locking DisplayPort 1.2 |
| Maximum Capture | 616MPixel/second capture bandwidth per channel providing 2 |
| Resolution | x 3840x2160 at 60Hz. Maximum capture surface of 8k x 8k at |
| | lower frame rates*. |
| Frame Buffer | 768MB |
| Input Mode Detection | Supports SMPTE - 352 Payload Identifiers |
| Pixel Transfer Formats | Polyphase FIR scaling engine (3x3) for hardware downscaling |
| | and upscaling |
| | Colour space conversion allows captured data to be |
| | transferred in any format: |
| | RGB:5-5-5, 5-6-5 or 8-8-8 (24bit/32bit) |
| | YUV: 4:2:2, 4:2:0 |
| | MONO: 8bit |
| Audio Capture | Embedded audio capture |
| | |
| Operating System Support | Windows XP, Windows Server 2003, Windows Vista, Windows |
| | Server 2008, Windows 7, Windows 8/8.1 and Linux |
| Power Requirements | Max current at 12V – 1.0A |
| | Max power ≈ 12W |
| Operating Temperature | 0 to 35 ºC ( 32 to 96ºF) |
| Storage Temperature | -20 to 70 ºC ( -4 to 158ºF) |
| Relative Humidity | 5% to 90% non-condensing |
| Warranty | 3 years |
Weiterführende Links zu "XtremeDV-DP2 Dual Channel Display"
Bewertungen lesen, schreiben und diskutieren...
mehr
Kundenbewertungen für "XtremeDV-DP2 Dual Channel Display"
Bewertung schreiben
Bewertungen werden nach Überprüfung freigeschaltet.