Computar Re-Introduces the MPW2 Series Ultra-low Distortion Lens
The MPW2 Series supports 2/3" sensor format at 5 Megapixel resolution in a C-mount lens. This Factory Automation (FA) lens provides high-performance optics with a variety of common focal lengths for maximum application flexibility. The exciting news is that this "workhorse" product is being re-introduced to the market at a reduced price!
Computar®, the leading Japanese lens manufacturer operated by CBC Group, has re-launched its popular MPW2 Series, ultra-low distortion lens. This 5 Megapixel, C-mount lens is available in focal lengths of 8, 12, 16, 25, 35 and 50mm. Offered at a new, lower price, the MPW2-R continues to be a preferred solution for industrial machine vision and mobile ITS multi-lane surveillance applications.
"Today's higher resolution digital cameras need a lens with a quality diffraction limit, and the MPW2 Series has been historically been proven to meet these demanding requirements at a reasonable cost" according to industry veteran Pete Kepf, Business Development for Computar Lenses. "The new price point now makes a quality, ultra-low distortion lens justifiable available to even more automation and traffic applications".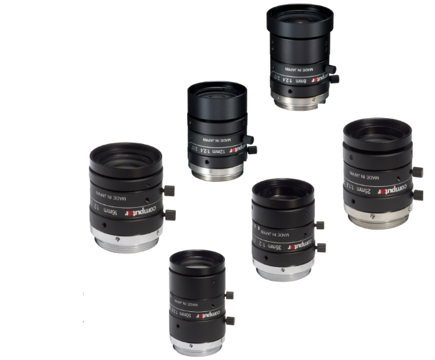 MPW2 Series
Applications: Industrial Machine Vision, Intelligent Traffic Systems

Lens type, Fixed Focal Length

Available in 8, 12, 16, 25, 35 and 50mm focal lengths

Small form factor

2/3 "format

5-megapixel lens

Ultra low distortion

Floating desing

Higher relative illumination rate
| | | | | | | |
| --- | --- | --- | --- | --- | --- | --- |
| Article Name | M0824-MPW2 | M1224-MPW2 | M1620-MPW2 | M2518-MPW2 | M3520-MPW2 | M5028-MPW2 |
| Article Number | 302448 | 302458 | 302120 | 302059 | 302121 | 302122 |
| Focal length | 8mm | 12mm | 16mm | 25mm | 35mm | 50mm |
| Aparture | F2.4 - F16.0 | F2.4 - F16.0 | F2.0 - 16.0 | F1.8 - 16 | F2.0 - 22 | F2.8 - 32 |
| Sensor-Format | 2/3" | 2/3" | 2/3" | 2/3" | 2/3" | 2/3" |
| Mount | C-Mount | C-Mount | C-Mount | C-Mount | C-Mount | C-Mount |
| Iris control | manual | manual | manual | manual | manual | manual |
| Focus control | manual | manual | manual | manual | manual | manual |
| MOD (Minimum Object Distance) | 0,05 m | 0,1m | 0,3m | 0,3m | 0,2m | 0,4m |
| Filter thread in mm | M32,0 x 0,5 | M27,0 x 0,5 | M27,0 x 0,5 | M27,0 x 0,5 | M27,0 x 0,5 | M27,0 x 0,5 |
| Dimensions in mm | Ø32 x 45,71 | Ø29x42,68 | Ø29x33,53 | Ø29x36,37 | Ø29x37,34 | Ø29x45,36 |
| Weight | 80 g | 72g | 53g | 60g | 59g | 69g |
| Temperature range | -10°C - +50°C | -10°C - +50°C | -10°C - +50°C | -10°C - +50°C | -10°C - +50°C | -10°C - +50°C |