Dieser Artikel steht derzeit nicht zur Verfügung!
Ideal for Medical Image Review, Satellite Imagery and Digital Signage Display Solutions HD...
mehr
Produktinformationen "Videowall EMS iVu9s"
Ideal for Medical Image Review, Satellite Imagery and Digital Signage Display Solutions
HD 1920 x 1080 Video wall controller with image auto scaling (3 x 3 Video Wall Controller)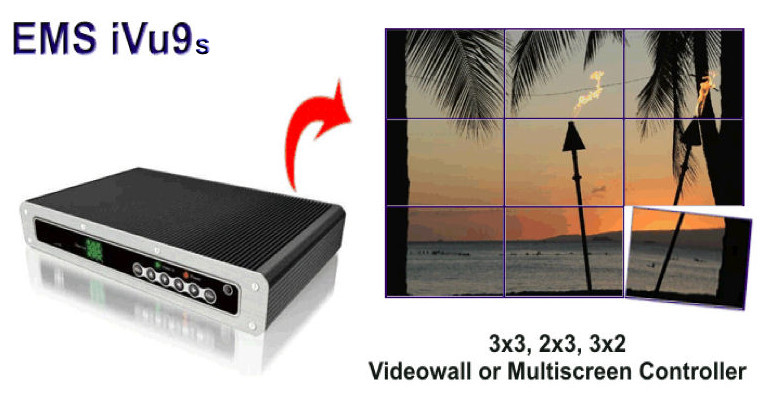 Ideal for Exhibitions, Control Rooms,Medical Image Review, Satellite Imagery and Signage Display Solutions.
The high-resolution video controller iVu9s enables 1 x high resolution input up to 1920x1080(HDMI and outputs 9 x HDMI outputs scalable up to 1920x1080 per screen.
The multiple output design enables large-screen display solutions through only one video controller, providing a cost-effective solution. The OSD keypad located at the front enables an easy-control interface while all the video outputs and power located at the rear brings the advantage of convenient cabling.
The iVu9s video controller is designed to drive LCD, DLP screens, video wall cubes and projectors, making it perfect for all kind of display applications.
Connect a Tablet or Smart phone directly to the iVu9s Video Wall Controller for instant display on a huge video wall. No special hardware is required, only a high resolution HDMI output from the device to the video wall controller. The video wall controller tiles together a group of small and inexpensive LCD panels to produce a large video screen.
Unique GeniMask bezel compensation technology
Support up to 1920 x 1080 input resolution
Support various display mode
Easy-to-DIY video wall solution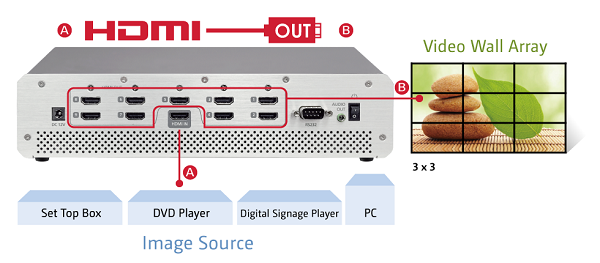 Compatible with Various Type of Displays
The iVu9s video wall controllers can be connected to almost any monitor or TV screens that supports HDMI (or DVI input via adapters). Monitors can be chosen according to budget and application needs.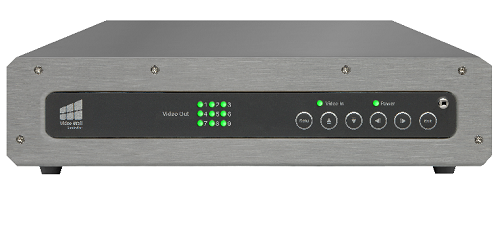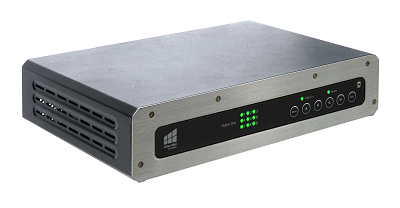 Screen configurations supported
1x1 - clone mode for multi screen applications
2x2
2x3
3x2
3x3
The HDMI input source can be from iPad, Tablets, mobile Phone, PC's, Laptops, DVD, Camera, etc ...
DVI to HDMI adapters can be used for DVI input or output enabling more flexibility.
Zero configuration.
Catch everyone's eyes.
Just show it on the huge screen.
Show off your ideas, photos, videos and more on your video wall.
The features of iVu9s video wall controller include:
Fan-less design for any implementation
The Vu9s can operate in 4 screen (2x2), 6 (3x2), 6 (3x2) or 9 (3x3) screen mode
Provide 1 image source input up to 1920x1080 HDMI and 9x HDMI outputs to nine (3x3) monitors/TV's
Display mode choice (Clone, Full Mode 3x3, or 2x2, 2x3, 3x2)
Software OSD control
IR Remote Controller
Enhanced display connection advantage
Up to 1920x1080 pixel input and scalable up to 1920x1080 output per display. On Screen Display/Remote control functions for selecting; Display mode, Output resolution; Border mask enable/disable and frame wideness adjustment.
Bezel Mask Function
Bezel mask or screen border adjustment, this is quite an important function, normally the display will be 'staggered" from screen to screen due to the use of conventional LCD/Plasma displays, but with this function you can adjust the display to be seamless, e.g. mask-out the screen bezel enabling a visually seamless display.
Easy-DIY to install and control the video wall or multi-screens either from a PC, Laptop or remote control unit.
Multiple units can be used for larger screen configurations, e.g. by installing a dual channel graphics card into a PC then two iVu9's can be connected to enable a 6x3 video wall or multi-screen display or one iVu9s can be cascaded to four further units to enable a 16x16 videowall / multiscreens.
Support Various Display Modes:
Display Modes Selection :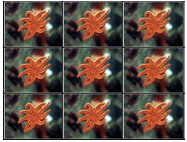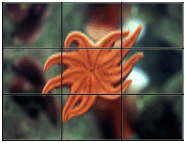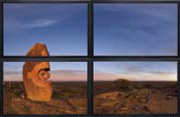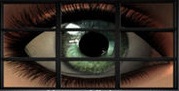 Easily build a video wall solution
EMS video wall controllers are as simple as plug and play. Users can simply connect their video source/player and video wall displays to the iVu9s video wall controller via HDMI, and the system will be setup with no complicated procedure required. The video wall controller can automatically detect the default settings and support up to nine displays via HDMI.
Weiterführende Links zu "Videowall EMS iVu9s"
Bewertungen lesen, schreiben und diskutieren...
mehr
Kundenbewertungen für "Videowall EMS iVu9s"
Bewertung schreiben
Bewertungen werden nach Überprüfung freigeschaltet.
iVu9s Specifications
Dimensions(mm)
295 x 191 x 65
Cooling
Fanless
Front Panel
LED Light
11 x LED (1 x Input, 9 x Output, 1 x Power)
Keypad
6 Keys
IR Receiver
Yes
Rear Panel
Input
1 x HDMI input
Output
9 x HDMI output
RS-232
1 x RS-232
Resolution/Display Mode
Input
Output
Clone mode(1 x 1)


1920 x 1080 (1080p)
1920 x 1080 (1080p)
1280 x 720 (720p)
1366 x 768
1360 x 768
1280 x 720 (720p)
1024 x 768
Input
Output
Full mode (3 x 3, 3 x 2, 2 x 3, 2 x 2)


1920 x 1080 (1080p)
1920 x 1080 (1080p)
1280 x 720 (720p)
1366 x 768
1360 x 768
1280 x 720 (720p)
1024 x 768
Power Consumption
40W
Power Upply
Connector
DC Power Jack
Input
110~240V
Output
12V DC 5A
OSD Function
• Display mode selection
• Output resolution selection
• GeniMask bezel compensation control
• System information
Temperature
0 ℃ ~ 40 ℃ with air flow
Safety and Emission
CE, FCC, LVD
Fearures
• Unique GeniMask bezel compensation technology
• Support up to 1920 x 1080 input resolution
• Support up to 1920 x 1080 output resolution
• Support various display mode
• Easy-to-DIY video wall solution